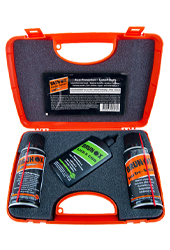 BRUNOX GIFT BOX
Full care for Your weapon.
The BRUNOX Gift Box contains:
2x BRUNOX Spray. Percfect bore cleaning! Remove black powder, lead, copper, nickel and other residues. Brunox dosn't contain silicon, PTFE, graphite. Testwinner of magazine Weapon culture.
1x BRUNOX Lub&Cor. Unbeatable corrosion protection! Excellent slippery for half- and full-automatic guns. Testwinner of magazine Knife and Weapon culture.
1x Gift BRUNOX. Rust Protection - Cotton cloth. Possible to use repeatedly.
BUY